ABOUT WELLNESS FOOD JAPAN
Wellness Food Japan is held at Tokyo Big Sight as one of the largest food and health industry trade shows in Japan. The scale of the exhibition is expanded annually in cooperation with the related organizations. WFJ's vision is:
To improve people's quality of life and healthy lifestyle through a variety of foods.


3 Specialized Areas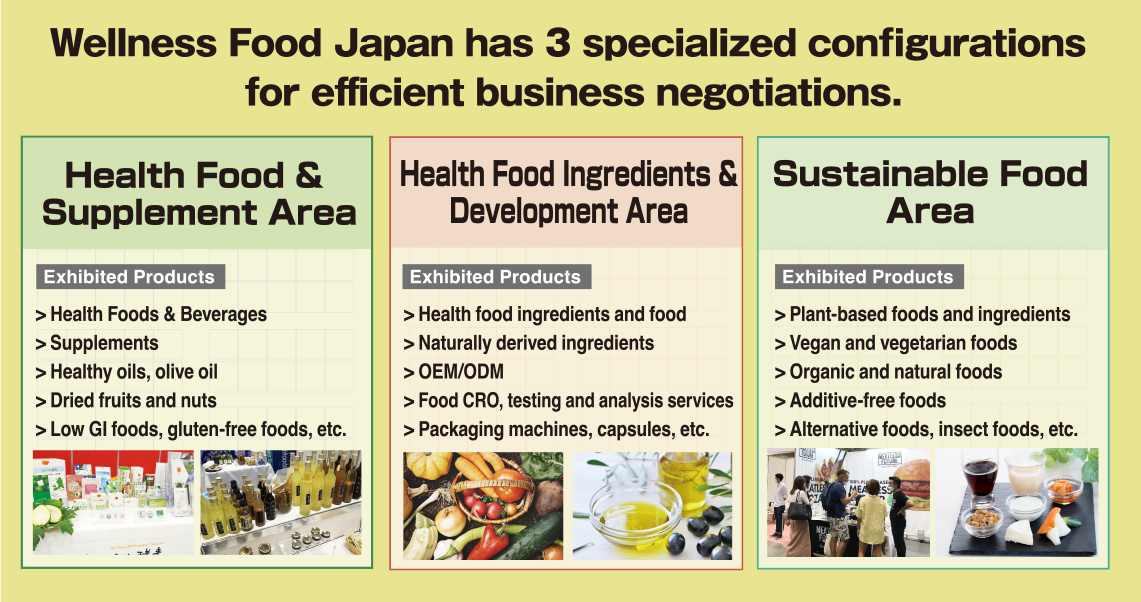 SHOW FACTS & OUTLINE
WELLNESS FOOD JAPAN has been highly evaluated by
both exhibitors and visitors.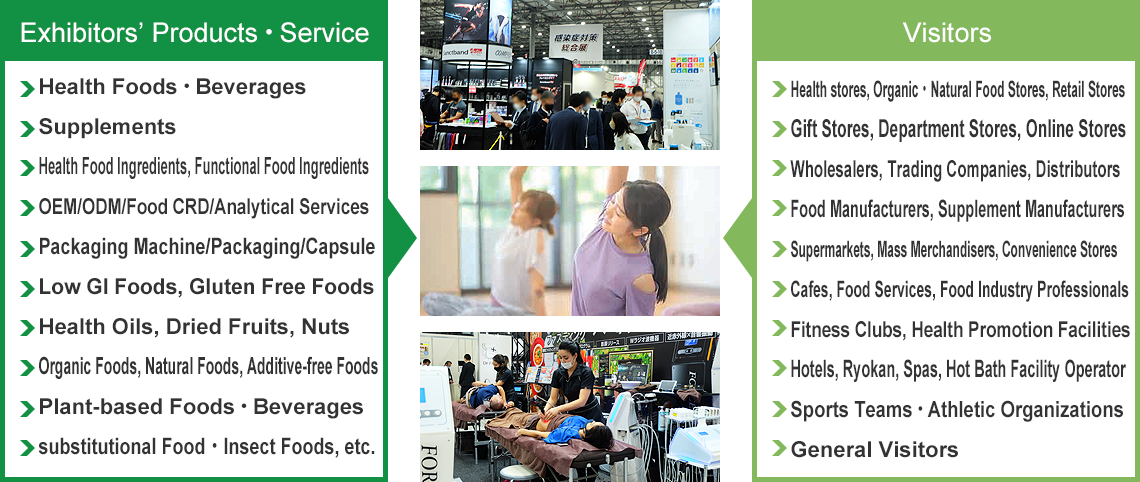 Why exhibit?
1
WFJ is expanding its scale every year for revitalizing the industry. 600 companies* with health foods and products will exhibit.
2
It is a place that directly leads to sales through real communication with 40,000* visitors from the health industry.
3
Over 2,000* people participate in events and seminars in the expanding market of health food related to topics like functional and sustainable food.
*Including concurrent exhibitions
BOOTH & SHELL SCHEME PACKAGE PLAN
Space Only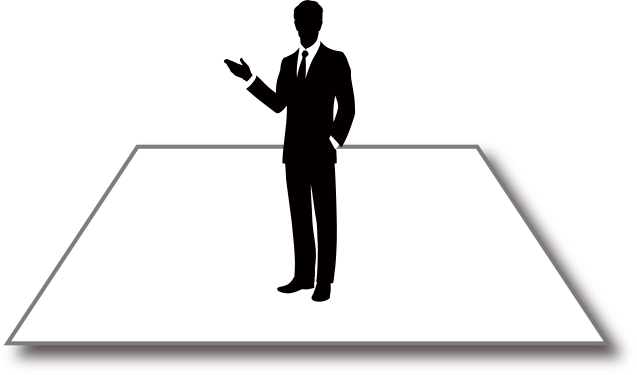 8.1 sqm. (3.0m x 2.7m) = 1 Booth
Price
Please contact us.

Shell Scheme Package Plan
Space only plan is not included basic panels. Please apply for Shell Scheme Package Plan or decorate your booth with your own booth constructor/designer.
Shell Scheme Package Plan is available if you do not have own decorator.
Please contact to Show Management office if you would like to receive more information.
Shell Scheme Package Plan A
Shell Scheme Package Plan B
Shell Scheme Package Plan C
Shell Scheme Package Plan D
SCHEDULE
WELLNESS FOOD JAPAN 2024 will proceed to the event according to the following schedule. The sports and wellness industry offers you great business opportunities. Please apply as soon as possible.
By December 31, 2023
Early Bird Discount
Early Bird Discount is available for application who submit the application by December 31, 2023
By May 2024
Application Deadline
May 2024
To Start Promotion
PDF invitation Ticket for free admission will be provided to the exhibitors. You may give out the PDF Invitation to your clients, business partners, etc. for promoting the show, which you'll be participated in.
July 14[Sun]-15[Mon], 2024
Move-in Days
July 16[Tue]-18[Thu], 2024
WELLNESS FOOD JAPAN 2024
July 18[Thu], 2024
Move-out Days
Immediately Follows The Show Ends.